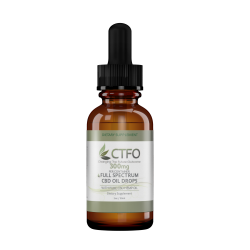 CBD Oil Drops Review – 300mg
Name at checkout: 
CBD Oil Drops – 300mg
SKU:
oildrops300mg
Description:
This is a high potency pure hemp oil containing 50 servings (6mg each) of Premium CBD Hemp Oil per bottle. CBD has been known to support healthy blood sugar levels, promote healthy energy levels, relieve anxiety, aid in digestion, support optimal immune function and the regeneration of healthy cells, and promote a sense of serenity and overall well-being. Perfect for anyone wanting to reduce minor health issues and maintain optimal health. Suggested Use: 20 drops (1/2 dropper) in the morning and 20 drops in the evening, more if desired. Drop onto your tongue or use in food & drinks. Natural peppermint flavor. 

Please feel free to review the product by clicking "Create your own review" below!
CBD Oil Drops - 300mg
Average rating:
14 reviews
Aug 19, 2018
Cognitive memory skills post stroke
My beautiful 93 year old mother began deteriorating 3 1/2 years ago after the death of my father. They had been married for 72 1/2 years. She had given him her life and was at a loss as to how to live without him. Her loneliness manifested itself in a desire to do very little except isolate herself in her home and read. I started noticing more forgetfulness on her part. She got very ill on Easter Sunday and was hospitalized which led to depression. Even upon her release, she seemed to spiral downward, manifesting itself in a stroke on, of all days, Mother's Day. Of course more hospitalization and rehabilitation followed. This led to more depression. My siblings and myself made the difficult decision to move her to an Assisted Living Facility as she was forgetting to take her medications and losing weight. Upon release from the rehabilitation hospital, I started her on our CBD 500mg oil. (I had only recently started using it myself.) My Mother's Dr upon hearing this, told me to stop giving it to her. I promptly came home and ordered her the 500 mg Isolate. I was not about to stop giving her something that I knew in my heart would help her. I decided that if it never showed up in a blood test, he would never be the wiser. She continued to have outpatient PT and OT until last week when she was released from their care. They were amazed by her rapid progress to rehabilitation. The therapist that worked with her to re-engage her brain neurons, said that the typical stroke patient never completely recuperates 100%. In word and game testing, if a person answers 3 questions correctly, they are doing well. My mother was repeatedly answering 100% of the questions correctly! I know she would not have done that a year ago! She is becoming the mother that I know and love. We can visit and talk now. It was difficult being around someone that was continually sad, depressed and despondent. I give all credit to God for creating this amazing plant and to CTFO for extracting the oil and making this product readily available to give everyone a new lease on life. I only wish I had had it to help my father 3 1/2 years ago.
Jul 23, 2018
Does this work? YES!
Scarred tissue and nerve damage, it means random stings of pain or areas of my body going to sleep randomly. Completely better after a month with the 300mg CBD Oil!
Jul 20, 2018
works
Arthritis pain, ragweed allergies, anxiety, curbs appetite & depression. Started CBD in March 2018 & very happy with the results.
Jun 19, 2018
Inflammation Relief
Yes! Thus was my reaction to my results after taking my CBD Oil Drops after coming home from my 4th day in a row at my Sales Advisor Job at Costco - standing 8 hours each day on those concrete floors! I had insane inflammation in both of my knees and figured I'd be unable to be very productive for the next couple of days. Happy to report... Wrong! Within about 1/2 hour my knees were feeling much better and inflammation had subsided. I was ever able to chase after 4 of my grand babies yesterday - all under the age of 3!!!! Why WOULDN'T anyone want to try this amazing oil? I've saved $$$ on other meds by using this one bottle for several ailments! On my way to Fabulous 57❤️??
Apr 30, 2018
Anxiety and Stress Induced Irritability
I recently started taking 300 mg CBD oil from CTFO, thinking it would help reduce my stress induced irritability at work. I sell furniture full time, and we are usually quite busy, and under staffed. I'm happy to report that I am much more even keeled, my coworkers are noticing it, too. I just feel better! I will never be without it!
Apr 23, 2018
Severe headache relief using CTFO 300 mg CBD Oil Drops
My personal testimony

For the past two weeks, I have had a severe headache that didn't go away despite me using prescribed narcotic pain reliever and over the counter meds.

I took the 300 mg CBD Oil Drops and applied it directly to my forehead, temples and the back of the neck and within minutes my severe headache was relieved.

Thanks CTFO!!!
Apr 8, 2018
Neck and back pain!!
Location:
Nanton, AB, Canada
Before January I hadn't even heard of CBD??? So I was a bit skeptical but as most know I'll try anything once especially because it said I would start feeling better!!! I have chronic neck and back pain so bad that I couldn't take a deep breath in!! I've been using the 300 oil for 10 days now and all I can say is wow ? wow. I was taking robax Advil Tylenol ect. For years with minimal results. After taking CBD oil my back feels great I can move around freely pick up my baby's without feeling like I'm going to drop to the floor. I've been in pain so long I forgot what it feels like to be pain free it's absolutely amazing to sit and not be in pain I'm looking for the pain I once had and can't find it!! It makes me smile I'm much happier than I have been in along time thanks to the pain being gone I can be more active with my kids and get things done around my house that use to be a daily struggle. I'm a CBD believer and can't wait to share with the world!!!
Mar 28, 2018
Tastes odd - does work
Though the product does seem to work, it tastes odd, so I rather take ibuprofen. Got my money back with the return policy, so giving 2 stars overall.
Mar 22, 2018
*******PROBLEMS SLEEPING*******
300 mg CBD and Sleep Spray
Okay let me just say this...I Love these drops already!!! I took the 300 CTFO Oil drops last night for the first time. My main reason for trying them was to regulate my blood pressure, I am on a low dosage blood pressure pill and I want to try and get off of it completely. I also have been having issues sleeping only 3-4 hours at a time and waking up. About 15-20 minutes after taking the drops I was knocked out..I slept until 5am this morning, 7 hours straight!!!! I also have the CTFO sleep spray, but I didn't take it last night....if I did I probably would have slept until noon!! LOL
Mar 21, 2018
While awaiting surgery
using 300 mgs of CBD oil post op and after 5 days of 1/2 dropper am and pm I did not take any pain pills today!!