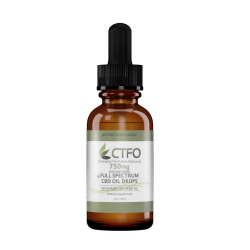 CBD Oil Drops Review – 750mg
Name at checkout: 
CBD Oil Drops – 750mg
SKU:
oildrops750mg
Description:
This is a high potency pure hemp oil containing 50 servings (15mg each) of Premium CBD Hemp Oil per bottle. CBD has been known to support healthy blood sugar levels, promote healthy energy levels, relieve anxiety, aid in digestion, support optimal immune function and the regeneration of healthy cells, and promote a sense of serenity and overall well-being. Perfect for anyone wanting to treat severe health challenges and regain optimal health. Suggested Use: 20 drops (1/2 dropper) in the morning and 20 drops in the evening, more if desired. Drop onto your tongue or use in food & drinks. Natural peppermint flavor.
Please feel free to review the product by clicking "Create your own review" below!
CBD Oil Drops - 750mg
Average rating:
6 reviews
May 23, 2018
Fibromyalgia & Headache Pain Relief
So, I've been taking the 500mg drops for around 6 or so months.

It has helped my fibromyalgia pain go from about a 8/9 every single day to maybe a 2-3 on very few occasions, the rest of the time I have been pain free.........with the exception of headaches.

I have had chronic headaches for years now, I'm talking every single day of my life for the last few years. Sometimes, multiple times a day. For some reason the 500 mg, just couldn't make them stop, so I lived off Tylenol for years.

Just recently I thought, I would bump up to the 750 mg and give it a shot, if it didn't work any better, I would just go back to the 500 mg, really I had nothing to lose. Well I am so freaking excited to tell you, that I have been headache free for 2.5 weeks now, and it has changed my life!

I wished I had tried the higher dosage a long time ago, but at least I have found it out now. If you are on the fence with trying these drops, PLEASE don't wait any longer. You seriously have nothing to lose, and everything to gain!
May 6, 2018
Broken Back Pain Relief
I was at dinner last night with my hubby and I got a call from my friend/neighbor who recently bought the 750 oil.

She was ecstatic and was saying I walked for 4 hours at an art's festival and I feel great!

This lady has had her back broken 4 times people. She went on to say this is the best she has felt in months - THIS WAS ONLY THE 3rd dose!!!!!

So happy to be here with this awesome company that helps others feel better!
May 1, 2018
Pain Relief
I have had Sarcoidosis of the lungs since my mid 20's. This is an autoimmune disease, and with this disease and the drugs my nerve system is bad. I have tried everything for the pain. With this Neuropathy, my feet were numb but I also had terrible pain, felt like fire and stabbing.

My wife found CBD on line she is always trying to find something to lesson my pain. I have been taking CBD for a while now and am glad to announce that the numbness is mostly gone and the pain is to a much more tolerable level.

My hope is continuing to take CBD will only make it better. I have the rotator cuff pain - 2 surgeries then a 3rd to try and fix what was done wrong, and now the shoulder is nearly destroyed.
I had daily pain. Now little to no pain.
Mar 27, 2018
Seizures, Migraines, Lupus, Fibromyalgia & other Autoimmune deficiencies
My 35 year old daughter had been plagued with multiple seizures for over 12 years and after taking the 750 mL 3x daily for 3 1/2 weeks she is now seizure free, no more inflammation and pain from the fibromyalgia and lupus, and the migraines are gone! This is an answer to prayer! This product is awesome!
Mar 15, 2018
Great product, slow shipping
I have great news, the 750mg oil drops have been a great addition to my on going back pain relief regimen.  Problem is, I ran out too soon.  The shipping took way too long and there was no option for faster shipping.  Have to only give 3 stars because the product doesn't work when it is in the mail!!
Mar 14, 2018
Crohns relief
My husband has had Crohns for almost 20 years.

He has been getting remicade infusions every 6 weeks for a few years now trying to keep it in remission.

For the last year, the remicade seemed to be working less and less. He was tested for remicade levels and immunity.

The last 6 months have been awful. Constantly totally exhausted and in a lot of pain.

Our daughter, April, introduced us to CTFO CBD oil.

Neal has been taking the 750 at 20 drops a day for less than 2 weeks.

The change is unbelievable. He is no longer fighting to stay up past 7pm. He has way more energy. And almost no pain!

He says he didn't realize just how sick he felt until he started feeling better.

He just started on the 1500 drops yesterday. We are hoping things get even better. I am totally blown away at how amazing this stuff is.

I finally have my husband back. Life for him is good again.