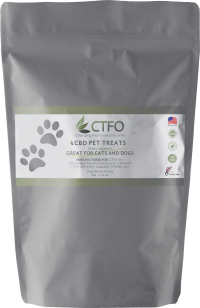 CBD Pet Treats – Chews
Name at checkout:
CBD Pet Chew Treats
SKU:
petchews
Description:
A convenient, delicious & playful way to make CBD part of your pet's diet. Helps treat multiple conditions without using harmful prescription medication. Does not damage the liver, kidney or GI Tract like OTC medication. Can be used to treat seizures, nausea, stress & anxiety. Pets less than 15 lbs get 1 treat, over 15 lbs get 2 treats.
Please feel free to review the product by clicking "Create your own review" below!
CBD Pet Chew Treats
Average rating:
3 reviews
Aug 26, 2018
Arthritis in pets
I purchased a bag of these to be able to give samples to potential customers and associates to try. So yesterday, I gave some to my friend who has an older pitbull who has arthritis and he gave his dog 2 last night and he called me today to let me know his dog did not whimper or cry in the night when he moved around. He is so happy that with just one dose of 2 chews helped his fur baby. Needless to say, he is sold on the results. I'm so happy to here this.
Jun 24, 2018
Dog Treats worked great!
Whenever we travel, our dogs become very anxious.

I gave the CBD dog treats to our dogs and they were calm and relaxed for several hours.
Mar 4, 2018
Doggy Head tremors gone !!!!!!
Well this is how I started in CTFO
Meeko our Black Lab who is now 10 started having idiopathic head tremors this means her head shakes uncontrollably she would also nearly fall over.
NOT ANYMORE thank you CTFO for CBD Pet treats only 2 treats a day and they are gone!!!