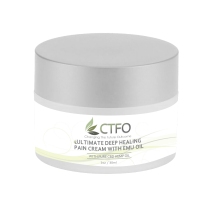 Deep Healing Cream – with Emu Oil 1oz – 60mg CBD
Name at checkout: 
Ultimate Deep Healing Pain Cream with Emu Oil 1oz – 60mg CBD
SKU:
paincream1oz
Description:
Our Ultimate Deep Healing Pain Cream with 10% Emu Oil helps to deeply penetrate the toughest aches & sores. Natural anti-inflammatory properties from Emu Oil combined with our hemp intensive stiffness. Apply as needed to problem areas. Great for chronic conditions! Apply to areas experiencing tension or pain. This product can be used as often as necessary. 

Please feel free to review the product by clicking "Create your own review" below!
Ultimate Deep Healing Pain Cream with Emu Oil 1oz - 60mg CBD
Average rating:
2 reviews
Jun 4, 2018
Psoriasis, Eczema, Pain Inflammation Relief
Testimonial for my husband
Deep Healing Pain Cream with Emu Oil

Hello everyone! Just wanted to share an update with you all.

My husband is on Day 3 of using Ultimate Deep Healing Pain Cream with Emu Oil on his leg. As you see in the pictures below he is showing so much improvement!!

Before using CBD products he never got this much improvement. CTFO CBD products are unbelievable!! ? ? ?


May 26, 2018
NEWBIE. PAIN RELIEF. SINUS HEADACHE. KNEE PAIN. NECK PAIN. BROKEN LEG.
Hi guys! I just recently placed an order and signed up under my friend Melissa Delgado-Frink. I have been watching a few friends that have tried using cbd oils. I ordered the deep healing cream and the anti-stress spray. I have several issues that I wanted to see if using the products would help. I was skeptical and hesitant for sure.

Yesterday I had spent most of the day with severe sinus headaches and had been having neck pain for almost two weeks. I had tried using essential oils and vapor rub to help (I don't like taking meds) but nothing was working. The mail came and my first order had arrived. Thank goodness!!! I opened my deep healing cream and rubbed it on my neck and head. Within an hour I was up and cleaning and haven't had a headache OR neck pain since. I also have been recovering from breaking my leg in January. I rubbed the cream around my break and I can tell a difference. My pain was minimal which is a huge change!

My husband even just used it on his knee and the pain left right away.

I am excited to get the oil in next week. I have spent years and so much money trying to find relief from pain, anxiety and stomach issues. Nothing I've tried has really helped me. I am already so impressed with the cream. I'm excited to try the oil!