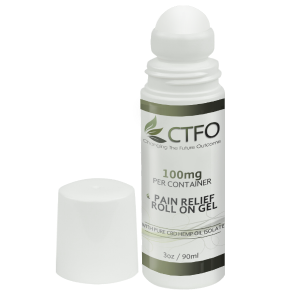 Muscle Pain Gel – 100mg CBD Roll On Rub
Name at checkout:
Roll On Pain Rub + 100mg CBD
SKU:
painrub
Description:
Love our Pain Free-ze Rub? Then you'll love it even more with a higher concentration of CBD and roll-on applicator for on-the-go relief! This is a topical analgesic blended with 100 mg of CBD isolate to help soothe minor muscle aches and joint pains. Our formula contains a menthol and uses cold therapy (Cryotherapy) to help penetrate quickly and offer non-additive, targeted relief at the point of pain.
Please feel free to review the product by clicking "Create your own review" below!
Roll On Pain Rub + 100mg CBD
Average rating:
3 reviews
Jul 19, 2018
Roll On
What I like about it is the rolling action on the muscle itself. And I've shared this with a few people and everyone loves it.
Jul 5, 2018
Elbow pain relief!
This stuff replaced my BioFreeze brand freeze gel.  The BioFreeze was messy and a little too potent.  The CBD Roll on gel is just potent enough and the cooling is more of a slow release which is way better.  The roll on portion is very helpful because I can massage the muscle as I apply.  This helps as it does release the muscle to allow the CBD to absorb.

I had dislocated my elbow and have daily pain, sometimes episodes of extreme pain.  After using this stuff, I do not have as much pain, and the episodes are quickly relieved with using this product!

4 star because I would like more CBD in the product.  Competitors have at least 120mg.  I do pick this over the competition because of the price and roll on feature!
Jun 21, 2018
Chronic Pain Relief
I have had a really sore shoulder for several years, probably started from painting ceilings. Anyway, it is an impingement where the nerves, tendons and joint issues are all squished on the top of my shoulder.

I have just graduated from two rounds of physical therapy and the pain continued but was significantly lessened. When I started physical therapy, I couldn't raise my arm to put on deodorant. My range of motion has improved. The pain has been something that is just there.

Enter the new Pain Relief Roll On Gel....instant pain relief!!!!